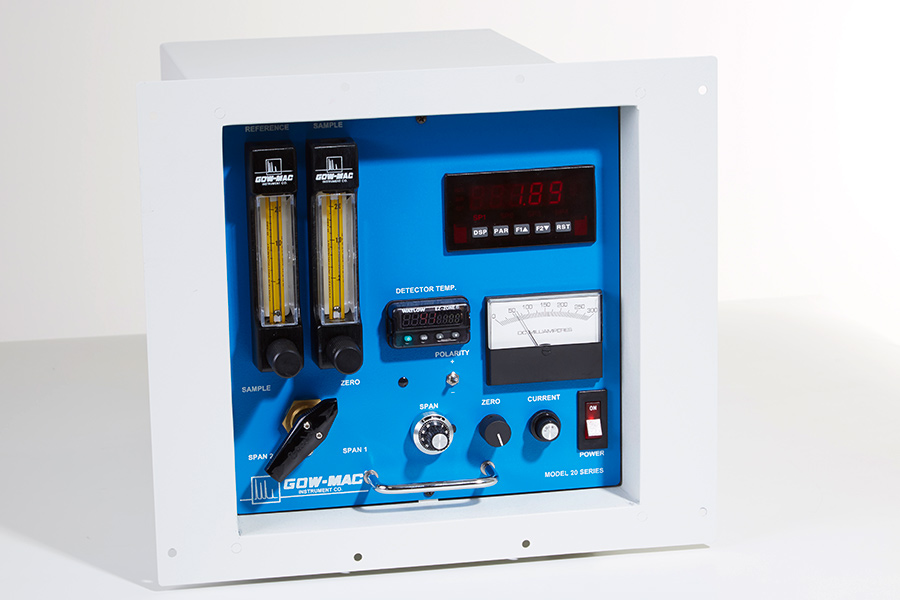 The 20 Series Gas Analyzer is designed for quantitative analysis of binary streams of industrial gases, gas mixing devices, and cylinder identification on a non-continuous basis. The 20 Series uses a Thermal Conductivity Detector (TCD) to measure the difference in thermal conductivity between the sample gas and the reference gas. A purged housing and rack mount bezel are available as options.
Series #
20
Type
Binary Gas Analyzer
Dimensions
10.1"H x 10.1" W x 17.5" D
Weight
30 lbs
Power
110V/220V
Detector
TCD
Gas
Various
Temp Range
Ambient to 50°C
Sensitivity
Application Dependent
Range
Application Dependent
Recommended Accessories
The Series 5100 Continuous Binary Gas Analyzer is a digital binary gas analyzer that can perform a continuous analysis of gases utilizing a Thermal Conductivity Detector (TCD). The on-board software along with the industry best detectors covers a wide range of applications from different industries. A built in manifold system along with optional corrosion resistant sampling system and Class 1 Div. 2 purging makes the Series 5100 a versatile instrument.
| Series # | 5100 |
| --- | --- |
| Type | Binary Gas Analyzer |
| Dimensions | 19" W x 15.75" H x 23" D |
| Weight | 75 lbs. |
| Power | 110V/220V |
| Detector | TCD |
| Gas | Various |
| Temp Range | Ambient to 50°C |
| Sensitivity | Application Dependent |
| Range | Application Dependent |
| Recommended Accessories | |